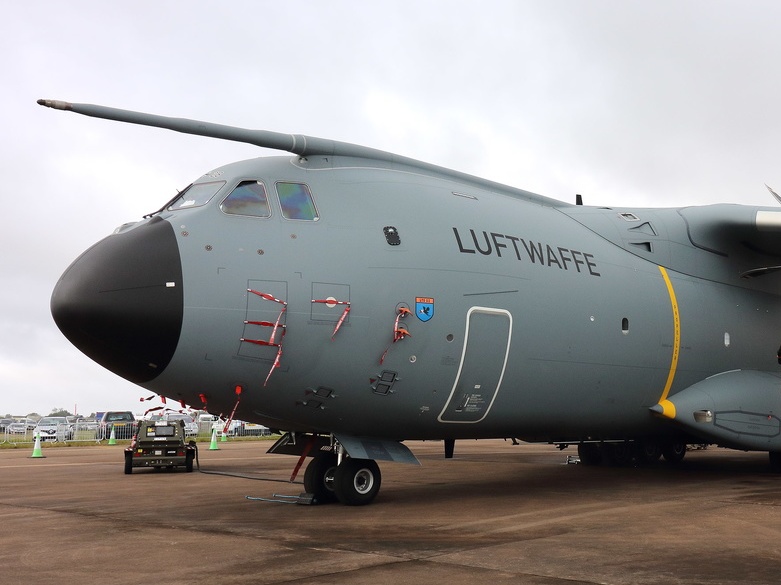 Pilot Job
Attention: Only for persons with German citizenship
Pilotin / Pilot (m/w/d) für Transportflugzeuge
in der Laufbahn der Offiziere
Als Pilotin bzw. Pilot eines Transportflugzeugs, z.B. der C-130J oder des A400M, meistern Sie fliegerische Aufgabenstellungen und Einsatzsituationen höchster Schwierigkeit. Sie führen am Boden und in der Luft eine Crew und übernehmen die Verantwortung für sie und die Ladung. Sie bereiten fliegerische Einsätze auf Basis Ihres umfassenden Wissens eigenverantwortlich vor und führen sie auch gemeinsam mit Partnernationen durch, sowohl im In- als auch im Ausland. Eigenverantwortlich organisieren Sie Ihre vielfältigen Aufgaben u.a. auch in einem multinationalen Verband, z.B. von der Heimatbasis der C-130J in Évreux (FR) aus.

Sie bauen Ihre theoretischen und praktischen Kenntnisse fortwährend aus und stellen sich den hohen körperlichen Anforderungen und Herausforderungen in unterschiedlichen Einsatzszenarien.
Ihre Aufgaben als Pilotin / Pilot (m/w/d) für Transportflugzeuge
Sie sammeln Informationen zur Einsatzlage, zum Flugwetter, zur Flugsicherung, zur Bedrohungssituation und zu eventuellen Besonderheiten im Einsatz.
Sie planen die Flugstrecke und bereiten Kartenmaterial anhand elektronischer Hilfsmittel vor.
Sie führen die Vorflugbesprechung mit Ihrer Besatzung durch.
Sie ermitteln Flugleistungsdaten für Start, Steigflug, Reiseflug und Landung einschließlich der Planung von Ausweichflugplätzen.
Sie überprüfen und führen das Bord- und Wartungsbuch.
Sie kontrollieren Ihr Transportflugzeug inkl. seiner Systeme und Beurteilen die Einsatzfähigkeit Ihrer Besatzung.
Sie führen die C-130J oder den A400M nach gültigen Vorschriften, Anweisungen und Befehlen.
Sie überwachen die Einhaltung des geplanten Flugweges und der vorgeschriebenen fliegerischen Verfahren im Einsatz und bei Übungen.
Sie führen Ihre Flüge bei Tag und Nacht, sowie im In- und Ausland durch.
Sie transportieren Fracht und Passagiere in alle Übungs- und Einsatzgebiete der Bundeswehr.
Sie führen außerdem medizinische Evakuierungen von Patienten aus Einsatzgebieten mit spezieller Ausrüstung durchgeführt.
Sie übergeben nach erfolgtem Flug das Transportflugzeug an die Wartungseinheit.
Sie leiten das Debriefing der Besatzung.
Was für Sie zählt
Sie erhalten als angehender Offizier (m/w/d) eine exzellente militärische Ausbildung und steigern Ihre körperliche Fitness durch gezieltes Training.
Sofern Sie mindestens über die Fachhochschulreife verfügen, absolvieren Sie ein Bachelor- oder Masterstudium an einer unserer beiden Universitäten.
Sie profitieren von einer mehrjährigen Ausbildung zur Pilotin bzw. zum Piloten im In- und Ausland.
Sie erhalten und ergänzen Ihre erlernten Kenntnisse und Fähigkeiten im regelmäßigen Flugdienst.
Sie übernehmen eine verantwortungsvolle Aufgabe und eine Führungsposition im nationalen und internationalen Umfeld.
Es erwarten Sie eine Vielzahl an zusätzlichen Qualifizierungsmöglichkeiten und ein attraktives Vergütungspaket.
Was für uns zählt
Sie sind zwischen 17 und 29 Jahre alt.
Sie haben mindestens einen Realschulabschluss oder die Fachhochschulreife (für ein Studium erforderlich).
Sie besitzen die deutsche Staatsbürgerschaft.
Sie sind bereit, sich bundesweit versetzen zu lassen.
Sie erklären sich dazu bereit, an Auslandseinsätzen der Bundeswehr teilzunehmen.
Als Soldatin bzw. Soldat auf Zeit beträgt Ihre Dienstzeit in dieser Laufbahn 16 Jahre.
Der Soldatenberuf ist mit besonderen Herausforderungen verbunden. Darum steht zu Beginn des Bewerbungsprozesses ein ausführliches Beratungsgespräch.
Source: https://www.bundeswehrkarriere.de/pilot-transportflugzeuge-offizier/137732
Please note that we are not a recruitment agency and only provide information for our pilot community and clients. No liability or warranty for incorrect information. For more information, please contact the airline or staffing agency directly.
Search Pilot Jobs
Aircraft
Positions
Qualifications
Airlines